By Ivan Shreve, Jr.
You've been seeing Valentine's Day TV commercials for weeks now, and I'll bet dollars to donuts most of the stores had their Valentine's Day displays up the day after New Year's. Everyone proclaims it as "a holiday for love"—though some of the more cynical among us would argue it's all a plot by florists, confectioners and greeting card companies to sell a little additional product.
But, Valentine's Day means something special to old-time radio fans…for on this date in 1894, Benjamin Kubelsky was born in a town that he would make famous: Waukegan, Illinois. We know him better, of course, as Jack Benny—a show business name that he would adopt after trying out different monikers (Benjamin Kubelsky, Ben K. Benny) on his road to stardom in vaudeville and movies (he signed a five-year contract with MGM in 1929).
Jack Benny's movie career stalled before it really got started—though in later years he would make successful forays into motion pictures, notably with the 1942 black comedy classic To Be or Not to Be. The comedian would find his greatest fame in the new medium of radio. Less than two months after a guest appearance on newspaper columnist Ed Sullivan's radio show on March 19, 1932 ("Ladies and gentlemen, this is Jack Benny talking. There will be a slight pause while you say 'Who cares?'"), Jack landed his own program with Canada Dry. Jack Benny became an entertainment institution for over forty years, selling products like Jell-O and Lucky Strike cigarettes as fast as the sponsors could make them.
Classic radio historian John Dunning once labeled The Jack Benny Program "the quintessential American radio comedy show." The comedian experimented with his radio half-hour, moving away from the traditional vaudeville-based humor (in which the comedian would tell a few jokes, then cut away to a musical selection) to create a more character-based comedy—a form that we recognize even today as the sitcom. Against the simple background of preparing for a comedy program week after week, Jack Benny also revolutionized radio humor. His celebrated "gang"—announcer Don Wilson, bandleader Phil Harris, tenor Dennis Day, gal Friday Mary Livingstone (Benny's spouse in real life), and chief-cook-and-bottle-washer Eddie "Rochester" Anderson—often got bigger laughs than the star, when traditionally the comic used stooges as straight men so they could deliver the punchlines. On his program, Jack was the straight man…and his regulars would soon be joined by a stock company of fine character performers that included Sheldon Leonard, Joseph Kearns, Verna Felton, Frank Nelson, Artie Auerbach, Bea Benaderet…and most importantly of all, Mel Blanc—who voiced everything from Jack's pet polar bear Carmichael to his beloved rattletrap Maxwell.
One of the reasons it feels so right to celebrate Jack Benny's birthday on Valentine's Day is because the comedian's character was one of the most beloved individuals on radio and TV. Despite the fact that the Benny of these two mediums possessed so many unattractive traits—avarice, vanity, cowardice, etc.—he was the Everyman whose exaggerated frailties were recognizable by everyone who listened and watched. Just seeing Jack having to deal with an obstreperous clerk (usually played by Frank Nelson)—and react with four fingers to the cheek and a forlorn stare—made him sympathetic to those of us in the home audience. So much so, in fact, that we would forget for a moment that this was the same man who treated his employees like chattel and would blow up at the pettiest of disturbances. Contrary to his cheapskate character, Jack Benny was one of the most generous entertainers in all of show business. Rarely did anyone conduct an interview with Benny without him acknowledging that he owed his success to his first-rate writing staff—Harry Cohn, Ed Beloin and Bill Morrow in the radio pre-war years; Sam Perrin, George Balzer, Milt Josefsberg and John Tackaberry after 1943.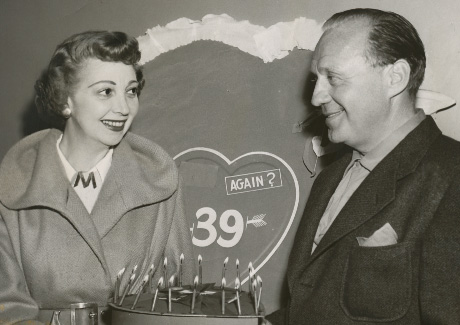 When television began to rear its ugly head, sounding the death knell for the wonderfulness that was radio, Jack made the transition to the visual medium like so many of his contemporaries—but, he did it much in the manner of a person sticking his toe in the water of what he believed was a freezing cold lake. His first television season consisted of two shows; later he would alternate every other week, making hits of the programs that shared his time slot, like Private Secretary and Bachelor Father. It wasn't until 1960 that Benny started doing his TV program every week, and the only reason he stopped at the end of the 1964-65 season was that one night he was so wrapped up watching the competition (Gomer Pyle, U.S.M.C.) he missed his own program. He figured that if he couldn't be bothered to watch it, why would other people? Still, Jack Benny remained a fixture on TV through a series of high-rated specials up until his death in 1974.
As a person who both loves and writes about old-time radio, I often enjoy asking other people what they love about classic radio—in the form of their favorite programs, personalities, etc. There seems to be a consensus that, while an individual that makes me laugh may have the opposite effect on someone else, very few people have ever had anything negative to say about Jack Benny…and most of them still include him when they begin to tick off their list of radio favorites. So, while I won't hesitate to make sure my loved ones get a nice card, box of candy, or bouquet of roses today…I'll also be smiling when I remember that one of the greatest comedians to ever walk the planet was born on the day we set aside for a celebration of love.
This slightly revised article was first published February 2013 on the Radio Spirits Blog. Copyright 2013 Ivan Shreve, Jr. and RSPT LLC. All rights reserved.