By Elizabeth McLeod
Newspaper reporters may seem a quaint relic of the past in this day of pajama-clad "citizen journalists" and the phenomenon of news-by-blog, but there was a time when the Gentlemen (and Ladies) of the Press wielded real power and authority. Got a problem? Got a gripe? "Ahhh, write a letter to the paper." An attitude vastly different from the cynical "you can't trust the mainstream media" perspective so common today, but there was, in fact, a time when professional journalists were among the most trusted and admired Americans of all — seen as watchdogs of a free nation, and friends of last resort to the desperate and the dispossessed.
Americans of the 1930s, '40s, and '50s had a particular set of stereotypes associated with newspaper reporters. They were all imagined to be tough and cynical, witty and clever — an image promoted in real life by such brash knights of the keyboard as Walter Winchell and Damon Runyon — but underneath it all, they had heart. They were voices for those who otherwise had no voice, defenders of justice, fighters for the right. Radio was one of the foremost tools for promoting this image. Who could forget such bold journalists as Steve Wilson of Big Town; Britt "Green Hornet" Reid; Casey, Crime Photographer; or even Clark Kent, who was a long way from being "mild mannered" in his long-running radio incarnation. Radio newsmen never shied away from a challenge, they never let evil go unpunished, and they never walked away from someone who sincerely needed their help.
The quintessence of a radio newspaperman, however, didn't come to the medium until very late in the game, riding the wave of quality adult crime drama stimulated by Dragnet. The early fifties saw a late flowering of quality radio, with the medium repositioning itself as a thinking-person's alternative to the vaudevillian capering and stagy melodramas of the infant television. This new wave of radio drama often went where TV couldn't — deep into the minds of its characters, deep into their souls, offering as much introspection as action. The stories were tightly written, making effective use of first-person-singular narration, and demanded distinctive, attention-grabbing voices. Night Beat had all the ingredients required for a latter-day-radio classic.
The series revolved around tough, relentless Chicago newspaper columnist Randy Stone — a man assigned to cover the "night beat," the dark overnight hours when the city was at its most menacing. Stone probed mysteries and chased criminals as ably as any private eye, but he was also a compassionate man, a man who saw his role as a voice for the dispossessed and the damaged, the lost souls who had nowhere else to turn. Stone roamed the dark streets looking for trouble and material for his column. His travels invariably led him into mystery and violence. Sometimes the violence was physical, and sometimes it was emotional, but either way, Randy Stone gave the impression of a man who could take it.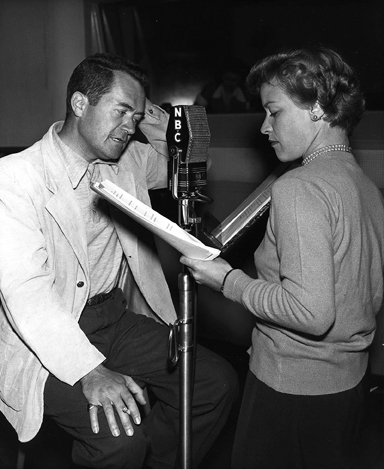 That impression came from the throat of an actor who had long been identified with tough-but-sympathetic roles. Frank Lovejoy didn't set out to be an actor, but the Depression had other ideas, tossing him out of a petty Wall Street job and, like millions of other victims of the Roaring Twenties, into the maelstrom of unemployment before he'd had any chance to establish himself in the world. Life becomes something of a blank slate when you're fresh out of school and out of work, and you grab at any straw you can. For Frank Lovejoy, the other end of that straw led to Broadway. It was a tough climb, but a natural talent for acting led him up the theatrical ladder through the mid-thirties. He had better luck in radio, where stage connections helped him find his way into the casts of assorted low-budget programs. By the end of thirties, he was starring in a CBS soap opera, Your Family and Mine. He was also turning up frequently in productions of the prestigious Columbia Workshop, and those of noted experimental producers Arch Oboler and Norman Corwin. During the war era, he was a favorite talent on various propaganda programs, with his voice seeming to epitomize the earnest, hardworking, resilient Average Joe. He was everywhere, but he still wasn't a star.
A long stint as narrator of This is Your FBI was Lovejoy's most notable radio job in the years just after the war, and he continued to freelance on most of the top anthology programs of the day. He was spending a lot of his time alternating between The Whistler and Escape at CBS Hollywood when he became the second choice to play the lead in NBC's new newspaper drama. Film-noir favorite Edmond O'Brien had recorded an audition episode for the new feature, but he didn't quite have the quality needed to bring the lead role, then called "Lucky Stone," to life. Lovejoy's audition immediately clicked, and the new program began as an obscure, unsponsored addition to the NBC schedule in February of 1950.
Lovejoy's tough, weary, determined characterization of Randy (not "Lucky") Stone made the program, a perfect meshing of voice and script. The series drifted around the schedule, picking up occasional sponsors only to lose them, as was the fate of many quality programs during the uncertain years of radio's slow decline. But, no matter where it appeared on the schedule, no matter who was paying the bills, Frank Lovejoy's rock-solid performance moved the series out of the realm of melodrama and made it the medium's definitive portrayal of newspaper work. Randy Stone wanted to get the story, make no mistake, but he was no Lee Tracy-by-way-of-Walter Winchell hustler in the manner of 1930's movie newshounds. As Joe Friday was to cops, Randy Stone was to reporters — dedicated, methodical, determined to get to the bottom of the story. In his tight-lipped way, he was deeply concerned about the ultimate fate of those involved. Working from scripts by series co-creator Larry Marcus, and by such outstanding freelancers as Russell Hughes, Kathleen Hite, John and Gwen Bagni, and David Ellis, Lovejoy captured the essence of how Americans imagined their press to be: honest, relentless, down-to-earth and, above all, on their side.
Like so many programs of the early 1950's, Night Beat didn't last long. It broadcast its last episode in the fall of 1952. A syndicated revival for sale in Australia lacked the verve of the original, and efforts to bring the program to television came to little. Its afterlife wouldn't truly begin until recordings of the NBC run were dusted off in the 1970's and 1980's for rerun syndication as part of various nostalgia packages. Listeners to The Golden Age of Radio Theatre, and similar series, took to Randy Stone immediately — something about his tough-but-compassionate attitude spoke to listeners in post-Watergate America, a time when newspaper reporters were widely considered to be among the few true heroes left. These reruns flourished on small AM stations and fledgling public-radio FM stations during the latter years of the nostalgia craze, giving the program a fan base and a reputation exceeding anything it experienced during its original run. Today, Night Beat consistently ranks as one of the best-regarded series whenever old-time-radio enthusiasts gather.
Frank Lovejoy worked regularly in film and television after the evaporation of dramatic radio, and would have been a natural to return to the medium as so many of his colleagues did during radio's unexpected 1970's Indian Summer, but he didn't live long enough — falling victim to a heart attack in 1962. He was just fifty years old — too short a life, and too short a career for the finest newspaperman ever to pound the night beat.
Copyright 2013 Elizabeth McLeod and RSPT LLC. All rights reserved.