By Ivan G Shreve Jr
The man who let audiences know what he liked about the South would have celebrated his birthday today. When wife Alice Faye would jokingly refer to him as "Wonga" on their popular radio comedy program, she was, in fact, addressing him by his given birth name: Wonga Phil Harris.
Phil Harris was a native Hoosier—born in Linton, Indiana in 1904—but, he spent his formative years in Tennessee, where music was one of his many pursuits. Phil later relocated to San Francisco and, in the 1920s, fronted a successful orchestra in partnership with friend Carol Lofner. When that dissolved in 1932, Harris regrouped and formed another band in Los Angeles where he continued to enjoy much success. The Harris band headlined at the famous Coconut Grove in the Ambassador Hotel, and visited radio's The Fleischmann Hour with Rudy Vallee on multiple occasions (that's where Phil first met future wife Alice Faye). Harris even had his own radio series, Let's Listen to Harris (1933-34), a series of hit recordings, and appearances in such feature films as 1933's Melody Cruise. (A 1933 musical short in which he starred, So This is Harris!, would win the Academy Award for best live action short subject the following year.)
Phil Harris was on top of the world at this point in his career—but, the best was yet to come. He was asked by comedian Jack Benny to become the musical director on his successful radio program in the fall of 1936 (after George Burns, who had expressed an interest in hiring Phil, went with Wayne King instead). Benny soon learned that his new bandleader had a flair for snappy rejoinders, and suggested that his writers throw Phil some lines in the scripts of his broadcasts. To differentiate between Jack and Phil (whose voices sounded similar in the early shows), Benny's writers created a flashy Southern playboy character for Harris, a man who loved good booze, flashy cars and pretty women. "Hiya, Jackson!" Phil would enthusiastically bellow to his boss as he made his entrance on each show…not only with a capital E, but with an N-T-R-A-N-C-E as well. The Harris character was a man both obnoxiously brash and functionally illiterate (allowing the writers to pepper his dialogue with malapropisms)…who somehow remained in control of a musical aggregation unable to read a note of music, and whose fondness for liquor rivaled that of their boss.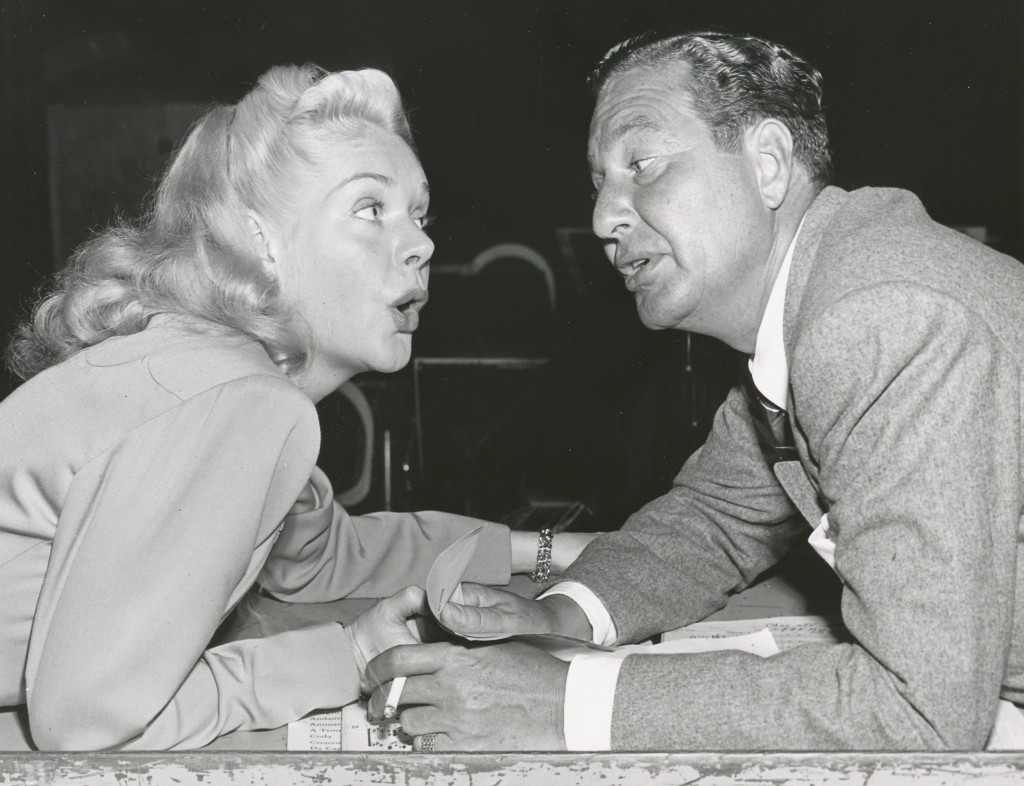 As a member of Benny's "gang," Phil's popularity would soon grow to the point where he was allowed to headline a series of his own – a series that would become one of radio's most successful "spin-offs." But, first, a little backstory: In 1941, Harris tied the knot with actress-singer Alice Faye (it was the second marriage for both). Five years later, the two of them were the stars of The Fitch Bandwagon, a variety series that had been a hit on radio since 1938. Once the Harrises joined the program, the Bandwagon began to morph into a family situation comedy. Phil and Alice played themselves – Jack Benny's bandleader and his former movie-star wife who put her career on hold to be a mother to their two children: Alice, Jr. (Jeanine Roose) and Phyllis (Anne Whitfield).
Also on the program was Phil's best buddy Frankie Remley, a left-handed guitar player and accomplished alcoholic Phil had known since a tour of Australia in the 1920s. Yes, Remley was an actual person, who performed in Harris' band on The Jack Benny Show…and who auditioned to play himself on Phil's new series. Frankie Remley may have been funny when talked about (running gags about him were featured on the Benny program all the time), but the real McCoy wasn't capable of putting across his legendary joie de vivre, so the role was given to actor-director-producer Elliott Lewis. Robert North would play Willie Faye, the sponging creampuff brother of Alice, and in the role of obnoxious grocery boy Julius Abbruzio was veteran Walter Tetley…who managed to create a kid even brattier than his celebrated Leroy Forrester on The Great Gildersleeve.
The Harris family appeared on The Fitch Bandwagon for two seasons before getting a new sponsor in Rexall in the fall of 1948…when it was renamed The Phil Harris-Alice Faye Show. (The Rexall sponsorship also brought on a new character in Mr. Scott, the head of the company, played by professional stack blower Gale Gordon.) Though the Harris-Faye program had always been popular due to its plum time slot between The Jack Benny Program and The Edgar Bergen & Charlie McCarthy Show, Benny's move to CBS in January of 1949 (and Bergen's temporary departure from radio in December of 1948) soon robbed the Harrises of much of their audience. It soldiered on as an NBC staple until 1954 (its sponsorship by RCA from 1950-54 allowed ample promotion of Phil's most successful record, the novelty hit The Thing). The only reason it did not make the transition to television like so many other radio properties was that Phil simply wasn't interested.
After the Harris-Faye show ended, Phil resumed his music career with a series of successful gigs in Las Vegas in the 1970s/1980s. He also appeared occasionally on a number of TV series, including Burke's Law, F Troop, The Lucy Show, etc. He earned rave notices for his roles in such films as The High and the Mighty (1954) and Good-bye, My Lady (1956). Later, beginning with the 1967 Walt Disney studio release The Jungle Book (where he voiced Baloo the Bear), Harris could be heard in Disney productions like The AristoCats (1970) and Robin Hood (1973). In fact, his last gig was as the narrator and friendly basset hound Patou in 1991's Rock-a-Doodle. He retired from acting soon thereafter, and died in 1995.
For many years, The Phil Harris-Alice Faye Show was considered something of a Holy Grail among old-time radio collectors: the almost complete run of the 1948-50 Rexall sponsored shows existed in recorded form, with smatterings of both the early Fitch Bandwagon years and the later RCA shows turning up on occasion.
Copyright 2015 Ivan G. Shreve, Jr. and RSPT LLC. All rights reserved.