By Ivan G Shreve Jr
Fans of old-time radio might get a kick out of watching an old Perry Mason rerun, "The Case of the Lover's Gamble," which turns up on the classic television cable channel outlet Me-TV every now and then.  At the risk of spoiling the ending, the murderer in this case turns out to be a man named Freddy Fell—portrayed by radio's "The Great Gildersleeve" himself, Harold (Hal) Peary, who was born in 1908.
Born Harrold José Pereira de Faria to Portuguese immigrants in San Leandro, California in 1908, Peary developed a passion for music early on in life, and by age eleven he was performing as a boy soprano at weddings, parties and other festive affairs.  Two years later, he made his radio debut as The Oakland Tribune's Boy Caruso…and continued to entertain over the airwaves for a number of Bay Area radio stations, notably as The Spanish Serenader for a San Francisco NBC affiliate in 1928.  But Hal demonstrated flexibility as a comic and dramatic actor, too, and appeared on occasion in roles for NBC's One Man's Family before relocating to Chicago in 1935.
It was in the Windy City where Peary would really make his mark in radio.  He would work as a member of the stock company on the horror program Lights Out, as well as stints on Kaltenmeyer's Kindergarten, Welcome Valley and Flying Time.  Back on the West Coast by 1937, Hal landed steady employment on the popular Fibber McGee & Molly program, playing a variety of utility characters.  One day he asked the show's writer, Don Quinn, about the possibility of obtaining a more prominent role on the show and Quinn obliged by creating a next-door neighbor who answered to "Throckmorton P. Gildersleeve."  From 1939 to 1941, Peary-as-Gildersleeve was Fibber McGee's nemesis and rival, the only Wistful Vista inhabitant pompous enough to match McGee's windy bluff.  The Gildersleeve character was an immediate hit, popular enough to appear in feature films starring Fibber and Molly (aka Jim and Marian Jordan) like Look Who's Laughing (1941) and Here We Go Again (1942), but also in solo appearances like Comin' Round the Mountain (1940), County Fair (1941) and Seven Days' Leave (1942).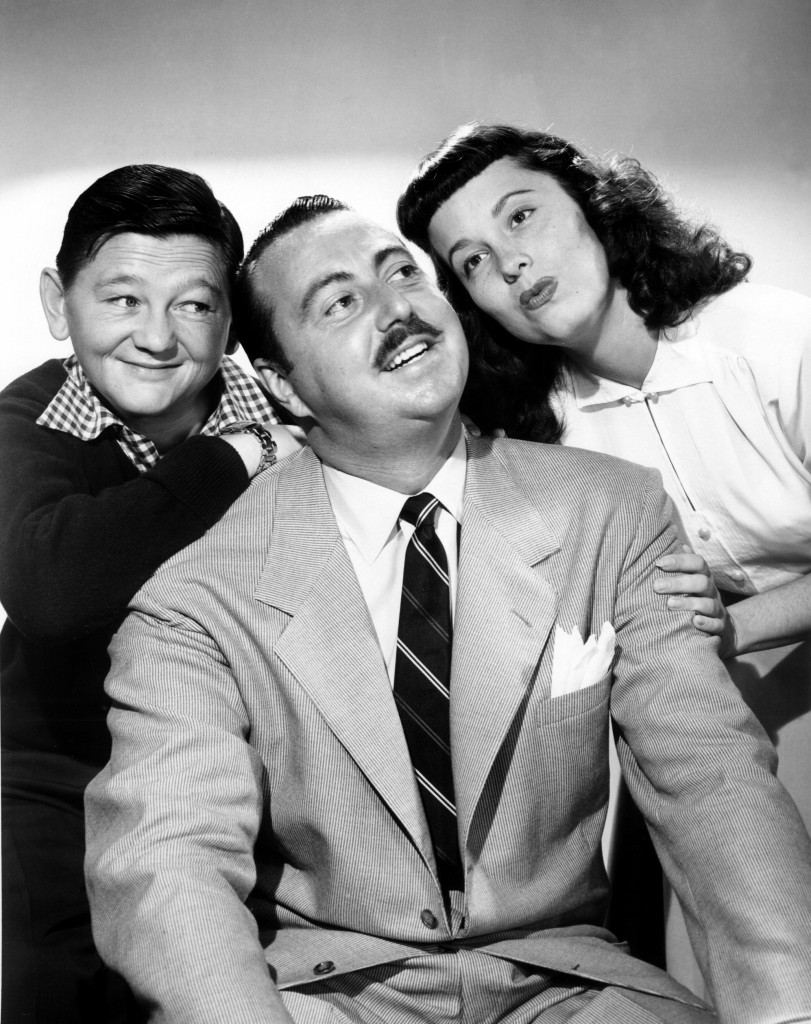 Despite other radio gigs, like briefly playing Herb Woodley on the situation comedy Blondie, Peary started to chafe in his role as Gildersleeve, fearing that he would become typecast and lamenting that his musical talents were being largely ignored.  He seriously considered quitting the program, but both NBC and Fibber McGee & Molly's sponsor, Johnson's Wax, were anxious to retain his services—so they sold the actor-singer on the idea of a "spin-off," The Great Gildersleeve, which premiered on NBC onAugust 31, 1941.  Hal was the star of this program, playing Throckmorton P. as a portentous but lovable man who was appointed guardian to his niece Marjorie and nephew Leroy Forrester.  "Gildy," as nearly everyone called him, was the water commissioner of a small town called Summerfield…and also that tiny hamlet's most notorious "bachelor-on-the-prowl."  An endearing situation comedy that based its humor not on jokes but on the quirks and personalities of its characters, Gildersleeve was not radio's first spin-off per se, but it was inarguably one of the medium's most successful.  The series even inspired a brief movie series of four feature films produced between 1942 and 1944.
The star of The Great Gildersleeve never made it to the show's official departure in March of 1957, however. Peary left his successful series in 1950 and appeared in a sitcom entitled Honest Harold for CBS that lasted only a single season.  But, Hal would find much work in the new medium of television, guest-starring on such shows as Private Secretary, Surfside 6, The Dick Van Dyke Show, My Mother the Car and Petticoat Junction, to name just a few.  He also played the part of Perry Bannister on June Havoc's 1954-55 sitcom Willy, and reprised his Herb Woodley role when Blondie was brought to television in 1957 in the first of two video incarnations.  Peary wasn't asked to play The Great Gildersleeve when the character made his TV debut in a brief syndicated sitcom…but he did wind up emoting as Mayor LaTrivia when the disastrous decision to bring Fibber McGee & Molly to the boob tube without the Jordans came about in 1959.
In later years, Peary's memorable voice could be heard in productions from animation studios like Hanna-Barbera (The Galloping Ghost) and Rankin-Bass (Rudolph's Shiny New Year).  He died of a heart attack at the age of 76 on March 30, 1985…but the characterization he made famous, Throckmorton P. Gildersleeve, lives on in broadcasts.
 Copyright 2012 Ivan G. Shreve, Jr. and RSPT LLC. All rights reserved.