By Ivan G Shreve Jr
When Paramount Pictures brought the hit Broadway musical Grease to the big screen in 1978, some of the film's casting decisions tickled the fancies of both old-time radio devotees and classic TV fans. One such decision was assigning the role of Rydell High School principal, Miss McGee, to character great Eve Arden. Arden had made a cottage industry out of playing wisecracking second bananas in films like Cover Girl (1944) and Mildred Pierce (1945; for which she received an Oscar nomination as Best Supporting Actress). But, she was perhaps best remembered for her long career as beleaguered high school English teacher Connie Brooks from the radio sitcom Our Miss Brooks, which premiered in 1948 on this date. (I know we're not supposed to giggle in class, but learning that Miss Brooks finally got promoted to principal—even if she did have to change her name—was a temptation no fan could resist.)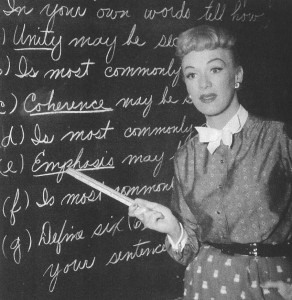 Interestingly, Eve almost took a pass on the Brooks gig. It wasn't that she was afraid of radio—she had the chops, having worked on shows alongside the likes of Jack Carson, Jack Haley and Danny Kaye—it's just that she was asked to take on Our Miss Brooks at the same time she was about to depart for a long overdue summer vacation. The actress who had played Miss Brooks in the audition recording (none other than future TV domestic Shirley "Hazel" Booth) hadn't been able to capture the lighthearted side of the character, and so CBS chairman William S. Paley prevailed upon Arden. Only after an agreement was made that the Our Miss Brooks shows would be transcribed (recorded) before Arden went off for her R&R did the actress sign on the dotted line. In the middle of her vacation, Arden received a phone call from CBS executive Frank Stanton that Our Miss Brooks was the runaway hit of the network's summer season.
Writers Al Lewis and Joe Quillan must take the bows for creating a truly wonderful example of character comedy. Our Miss Brooks was a funny series with uproarious situations, but it was the endearing Connie Brooks—dedicated to her profession despite the limited financial rewards—that made the series work. Miss Brooks transcended the usual depiction of schoolteachers, often portrayed in movies and elsewhere as scowling, humorless tormentors of inquiring young minds. Instead, Connie came across as a warm, funny presence…and was unique in that era for being a single career woman, something often overlooked in discussions of boob tube trailblazers like Ann Marie (That Girl) or Mary Richards (Mary Tyler Moore). The show illustrated our heroine's travails at work and play; the latter represented by her amusing interactions with absentminded landlady Margaret Davis (Jane Morgan). Though Mrs. Davis occasionally drove Connie to distraction with her eccentricities, the sweet Mrs. D served as a mother figure to Miss Brooks, offering her counsel (though occasionally ill-advised) and overlooking the fact that her tenant was always in arrears where her room rent was concerned.
In the workplace, Connie Brooks enjoyed a great rapport with her students—notably übernerd Walter Denton (Richard Crenna), who often relied on his favorite teacher for advice regarding matters of the heart. Walter's object of affection was Harriet Conklin (Gloria McMillan), who also loved and respected Miss Brooks, as did class athlete (and Madison's resident dunce) Fabian "Stretch" Snodgrass (Leonard Smith). Miss Brooks' best friend at Madison was also the man that she had set her cap for: biology teacher Philip Boynton (Jeff Chandler). Nicknamed "the bashful biologist" because of his painfully shy manner, Mr. Boynton was completely oblivious to Connie's romantic advances…preferring the company of his frog "McDougall." Many of the laughs on Our Miss Brooks were generated by Miss Brooks' battles with her rival for Boynton's attentions: fellow English teacher Daisy Enright (Mary Jane Croft). All of these were utterly lost on Boynton, of course, who probably preferred poring over the centerfold in Biology Monthly to spending time with females of his own species.
Madison was also the home base of Connie's nemesis: the autocratic and pompous school principal Osgood Conklin (Gale Gordon). Conklin was originally played by actor Joe Forte, but the minds behind OMB wanted a much more forceful personality in the role, and they pressed upon Gordon to play the part. Because he already had a lot on his plate with regards to radio roles (Gale was Mayor LaTrivia on Fibber McGee & Molly and Rumson Bullard on The Great Gildersleeve, for starters), Gordon asked for what he thought was an astronomical salary…and was flabbergasted when they agreed to his request. It would turn out to be money well-spent; the actor who specialized in blustery characters that eventually blew their stacks could be satisfied in knowing that Osgood Conklin would turn out to be his best radio role.
Our Miss Brooks was a solid performer for CBS Radio, and four years after its debut the decision was made to transition the sitcom to the small screen. Most of the program's cast reprised their radio roles…with the exception of Jeff Chandler. While excelling as the radio Boynton, Chandler would have seemed out of place with his rugged good looks. In fact, he was beginning to enjoy a burgeoning silver screen career as a matinee idol (which started with his Oscar nominated performance as Cochise in 1950's Broken Arrow). The producers replaced Chandler with actor Robert Rockwell, who looked more like a biology teacher…but to Chandler's credit, Jeff insisted on fulfilling the remainder of his radio contract. When Chandler moved on, Rockwell replaced him as Boynton on radio as well.
The television version of Our Miss Brooks was every bit as successful as its radio counterpart (in 1954, star Eve Arden would nab an Emmy as Best Female Star of a Regular Series). However, the ratings started to slide a bit in the show's fourth boob tube season …and so the series was revamped slightly. Madison High was razed to make room for a freeway, and so Connie and Mr. Conklin eventually wound up squaring off against each other at a girls' private school. Although Mrs. Davis turned up on occasion, we said goodbye to Walter, Harriet, Stretch…and even Mr. Boynton; Connie had a new lineup of suitors competing for her affections. Toward the end of the season, they brought back Boynton after realizing that the changes had been a terrible mistake…but it was too late to stop the sinking ratings.
Oddly enough, radio's Madison High had been spared the wrecking ball; Our Miss Brooks continued with the same cast of characters as if the radio incarnation existed in an alternate universe. (It was the same situation in 1956's Our Miss Brooks, a theatrical film produced to cash in on the success of the sitcom.) The Madison High gang continued with their shenanigans until June 30, 1957, when the show (which radio historian John Dunning once described as "one of the last bright lights of radio situation comedy") rang the final bell to signal that school was out…forever.
Once popular as a television syndication staple, Our Miss Brooks seems to have fallen off the radar. I consider it one of the greatest entertainment crimes that there doesn't appear to be enough interest in the TV series to warrant official season-by-season releases on DVD. But you can certainly find selected episodes of the TV show if you know where to look.
Copyright 2013 Ivan G. Shreve, Jr. and RSPT LLC. All rights reserved.