By Ivan G. Shreve, Jr.
Seventy-nine years ago on this date, a program that would soon become the number one radio show in the nation premiered over the Red network of NBC.  The Chase and Sanborn Hour was big-time radio: it featured the likes of Nelson Eddy, Don Ameche, Dorothy Lamour and W.C. Fields—all of whom were audience pleasers at that point in their careers.  The program also attracted top Hollywood celebrities who would frequently emote in sketches both comedic and dramatic, written by highly-paid scribes (one of whom was a soon-to-be-famous Arch Oboler).
But the biggest draw on The Chase and Sanborn Hour was a comic ventriloquist and his wisecracking dummy…that's right, a ventriloquist performed on radio.  His name was Edgar Bergen, and with his wooden sidekick Charlie McCarthy (not to mention Mortimer Snerd and later Effie Klinker) Bergen had been able to turn a highly-touted appearance on Rudy Vallee's The Royal Gelatin Hour in December of 1936 into a thirteen-week engagement that then led to his hiring as one of the Chase and Sanborn show headliners.  Not only that—Bergen & McCarthy would soon become the most popular segment of the show, so much so that people would often simply say they never missed the chance to listen to "Charlie McCarthy."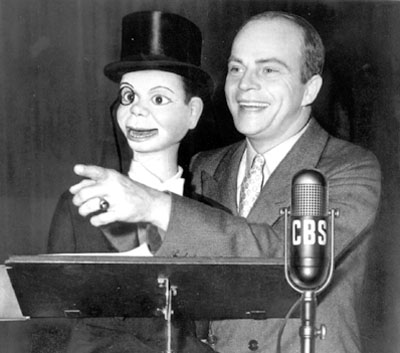 People who ask the question "How could a ventriloquist succeed on radio?" are no doubt unfamiliar with the talent that was Edgar Bergen.  Edgar was gifted with the same immaculate timing as Jack Benny, and though the performer was somewhat shy and self-effacing in real life, something seemed to possess him when he was on stage; whereupon he transformed a dummy carved out of a simple block of wood into a living, breathing personality…one that played a naughty and often sarcastic schoolboy to Bergen's stern authoritarian figure.  W.C. Fields (a man who despite his talent was not known for his generosity when it came to his peers) had nothing but praise for Edgar's keen sense of comedy…though as Don Ameche once told an interviewer, The Great Man really hated Bergen's dummy.  The "feuds" between Charlie and Fields were often the comedic highlights of the Chase and Sanborn program—and though W.C. left the program after four months, he would return to Bergen and McCarthy's show as a frequent guest, even squaring off against the duo in his 1939 feature film comedy You Can't Cheat an Honest Man.
Because of his "youth," Charlie was able to get away with a lot of behavior that might otherwise be frowned upon from any other individual: his saucy replies to Bergen's attempts to enforce discipline were greeted by approving laughter from both live and radio audiences, and the dummy was also able to flirt shamelessly with female guests without fear of reprisal.  Well, almost…there was an infamous broadcast from December 12, 1937, when Mae West was the guest star.  An "Adam and Eve" sketch featuring Mae and Don Ameche was heavily criticized for its irreverence (though it's amazingly tame by today's standards).  Adding insult to injury, listeners were shocked at an exchange between West and Charlie , which only sounded spicy due to West's sultry delivery.  Besieged by listeners, ministers, congressman and other individuals agog that a "family program" would feature such shenanigans, NBC and J. Walter Thompson (the agency handling Chase & Sanborn's account) later apologized for the offense.  Mae West did not escape so cleanly; she was banned from network radio for an indefinite time period—even the mere mention of her name was verboten.
When the contracts of Ameche, Eddy and Lamour were up for renewal, Chase & Sanborn decided to prune their weekly show to a half-hour and just concentrate on the elements that were the broadcast's big draw: namely, Charlie and Edgar.  They continued to sponsor the series under the Standard Brands umbrella, which also included products like Royal Pudding and Tenderleaf Tea.  Don Ameche returned to the program in the 1940s as an announcer-performer, and Nelson Eddy was a favorite guest star, but for the most part it was Bergen's preserve as he interacted with Charlie, Mortimer Snerd and the show's guest stars.  Bud Abbott & Lou Costello were regulars on the show in the 1941-42 season (they would get their own program in the fall of 1942), and orchestra leader Ray Noble would often provide laughs as, in Edgar's words, "a silly ass Englishman."  Other regulars on the show at various times included William Gaxton & Victor Moore, Barbara Jo Allen (as Vera Vague), Richard Haydn (as Professor Lemuel Carp), and Pat Patrick as the sing-songy Ercil Twing.  A number of female vocalists also appeared over the years: Dale Evans, Joan Merrill and Anita Gordon, to name just a few.
Throughout the 1940s, Edgar Bergen & Charlie McCarthy's Sunday night show was as much an institution as Jack Benny's program…but Bergen soon fell into the same ratings trap that removed Fred Allen's show (the stiff competition from ABC's Stop the Music).  Edgar wisely chose to exit his NBC show in December of 1948 (while Fred futilely continued trying to put an end to the Stop the Music juggernaut) and reemerged on CBS in the fall of 1949 under his new sponsor of Coca-Cola (later Richard Hudnut and Kraft Foods).  Bergen never achieved the later television success of his contemporaries; he tried a few TV pilots and later hosted a You Bet Your Life-type quiz show in the form of Do You Trust Your Wife? from 1956-57.  He was mostly content to reserve his appearances to boob tube guest roles and occasional acting gigs in movies.  However, he could brag that he was one of the last big-time radio comedians to leave the airwaves—his Edgar Bergen Hour had its final curtain call on CBS on July 1, 1956.
 Copyright 2015 Ivan G. Shreve, Jr. and RSPT LLC. All rights reserved.