By Elizabeth McLeod
To paraphrase Fred Allen, imitation was the sincerest form of radio. Throughout the medium's Golden Era, Formula was king — and any breakthrough success meant, almost immediately, that a legion of imitators would follow. But there were a few programs so original in their concept and so unique in their execution that successful imitation was impossible. And at the head of that list you'll find Duffy's Tavern.
Series creator Ed Gardner became a household figure in the person of a malaproprial New York bartender, but "Archie" was merely the surface of a very deep vein of talent running through his creator. If there was ever a quintessential New York hustler, it was Ed Gardner.
He was born Friedrich Poggenburg Jr., was known to his friends as Eddie, and known to his closest friends as Poggy. By whatever names he was known, he was born in a walkup apartment over a butcher shop in Astoria, Long Island in 1901. Like many working-class families in turn-of-the-century America, the Poggenburgs believed in education only up to a point. Young Eddie dropped out of high school after two years to see what sort of a mark he could make in the working world. He had learned piano as a child, and this talent earned him a spot entertaining the patrons at a neighborhood saloon…until the onset of Prohibition dried up both the saloon and the piano-playing career. From then on, Eddie Poggenburg figured he'd better be prepared to hustle his way through life.
And he was well equipped to do that. He was a tall, lanky boy with a mile-a-minute mouth, a high tolerance for what passed at the time for liquor, and a sharp eye for the fast chance. At turns he was a railroad dispatcher, a stenographer, and a promoter of various gimmicks and deals. He sold everything from pianos to typewriters to paint, always managing to make a buck when he needed it, but never quite enough money to move on to something more stable. In 1929, however, things changed. That was the year Eddie met, wooed, and wed a rising young actress named Shirley Booth — a mischievous-looking young woman then climbing up the ladder of summer stock in hopes of crashing Broadway. Show business seemed like just the thing for a young man with a slick line of patter and a way with people, but "Poggenburg" wouldn't look very impressive on the stationery. Eddie Poggenburg stayed in Astoria, while Ed Gardner headed for the main stem.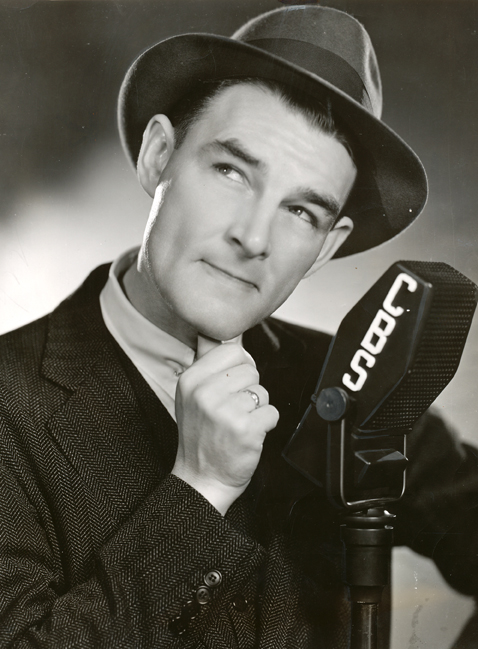 As befit his talents, the newly-rechristened Gardner soon landed a job as a theatrical publicist. After soaking up as much as he could about the inner workings of show business, he brashly moved ahead and became a producer himself — packaging his wife as the star of a pair of short-run stage comedies. He made no money from either show, but his promotional talent drew the attention of the J. Walter Thompson advertising agency. In 1935, Thompson sent their new recruit to learn the ropes of radio production at CBS.
Over the next two years, Gardner shuttled between the coasts, working on programs in New York and Hollywood, working with some of the top stars in the business — from Bing Crosby to Burns and Allen to Rudy Vallee. But the most important figure Gardner would meet in these years was a sardonic young writer named Abe Burrows, who began peddling freelance gags to minor radio comedians around 1938. Burrows was brash and witty, a New Yorker to the core, and he and Gardner soon found themselves to be kindred spirits. When Gardner proposed a new idea for a program focusing on the many dimensions of life in New York, Burrows was tapped as one of the writers. The idea attracted the attention of CBS, which put it on the air in 1939 as a sustaining feature, with Gardner in charge of production. While casting about for an actor to fill the role of an "average New York mug," he became irritated by the movie-style Brooklynese accents offered by the auditioning dialecticians, and he finally decided to play the part himself. The character was christened "Archie."
The series, titled This Is New York, came and went without making a lasting impression or gaining a sponsor, and Gardner returned to agency work. But something about the Archie character struck him, and when he returned to Hollywood that winter to produce the Maxwell House Good News of 1940 program, he took Archie along, intending to try him out again on the air in a different format. A monologue featuring Archie relating the doings in a sleazy neighborhood joint called "Duffy's Tavern" received a polite response from the Good News audience — and in Gardner's snap-trap mind, the wheels were turning.
When he returned to New York in the summer of 1940, Gardner set to work, and at the end of July he unleashed a full half hour of "Duffy's Tavern" on CBS's Forecast series, a summer time-filler intended to give on-air auditions to new radio ideas. It wasn't quite the program it would become, but the script (featuring a bizarre monologue revolving around the bicephalic "Two-Top Gruskin") and Gardner's distinctive delivery drew notice. Despite the positive response, no sponsor jumped to embrace the program, and Gardner returned to his production work.
He was back in Hollywood in early 1941, producing Rudy Vallee's Sealtest program, when he got the word that the makers of Schick razors wanted Duffy's Tavern for a March premiere on CBS. Gardner rushed back to New York and knuckled down with Burrows. They assembled a writing staff and a supporting cast featuring longtime Fred Allen stooge Charlie Cantor (as a drooling oaf named Finnegan), veteran African-American stage and radio comic Eddie Green, whom Gardner had known from his work on the Vallee program (as Eddie the sardonic waiter), and Shirley Booth, by now a prominent Broadway comedienne (as the proprietor's terrifying daughter "Miss Duffy").
There was nothing else quite like it on the air, in comic tone or in setting. Gardner's surreal monologues about peculiar neighborhood characters remained a regular feature of the program, accented by his witty, ever-malaproprial byplay with Eddie and Finnegan. Schick liked the springtime run well enough to renew for the fall. After one more season on the East Coast, Gardner decided to uproot his crew and move the program to Hollywood, where he could ensure a more consistent stream of big-name guest stars. However, there was one casualty. The Gardner-Booth marriage had been fraying for a while, and fell apart for good in 1942. Gardner was forced to recast Miss Duffy with a long line of actresses who tried in vain to imitate as closely as possible the voice of his ex-wife. But the essential triad of the cast — Archie, Eddie, and Finnegan — remained intact and provided a sharp setting for whatever guest star happened to stumble into the Tavern each week. Gardner changed writers as often as he changed his shirts, but he was widely respected as one of the top comedy editors in the business. The program's clever humor grew directly out of his instinctive understanding of what was funny. The show's absurdist bent drew a particular following among the intellectual set, as well as among highbrow-oriented comedians like Fred Allen and Colonel Stoopnagle, who relished guest-star opportunities to match wits with Archie.
That most New York of programs managed to maintain its distinctive style even after Gardner moved it to Puerto Rico as part of a tax shelter scheme. But the series didn't last long after the move. Eddie Green died a few months into the first season in San Juan, the writer turnover was constant, and it was difficult to bring guest stars in the new location. Even under the tropical sun, Gardner's health (always plagued by nerves and a constantly percolating ulcer) was in decline. Meanwhile, television was drawing away the sponsors. With all of this stacked against it, Duffy's Tavern ended in 1951.
Gardner halfheartedly appeared in an unsuccessful syndicated television version of Duffy's Tavern, dabbled in film production, and even did a few small TV acting roles (for, of all people, Alfred Hitchcock) before settling into retirement. He died in 1962. But Duffy's Tavern resurfaced in radio syndication in the mid-1970s and attracted a whole new audience who appreciated the clever, distinctive wit of radio's quintessential New Yorker.
This slightly revised article was first published March 2015 in the Radio Spirits Email Newsletter.
Copyright 2015 Elizabeth McLeod and RSPT LLC. All rights reserved.