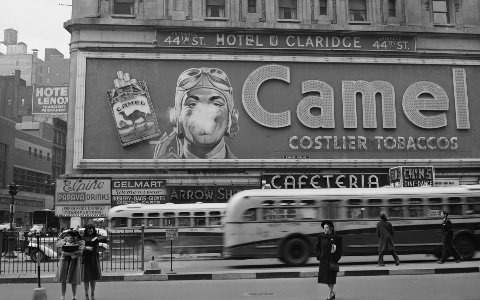 "From Times Square to Columbus Circle…the gaudiest, the most violent—the lonesomest mile in the world…"
By Ivan Shreve, Jr.
By the beginning of the 1950s, radio crime drama began to develop a new breed of program that, in the words of old-time radio historian Jim Cox, "witnessed a forbidding side of law enforcement in the harsh realities of an urban backdrop." Jack Webb's seminal police procedural Dragnet is considered by many to have been at the forefront of this new kind of cop show…but it's interesting to note that Dragnet was actually preceded by a few months by a series that premiered sixty-six years ago on February 27, 1949: Broadway Is My Beat.
Broadway Is My Beat detailed the exploits of plainclothes homicide detective Danny Clover of the N.Y.P.D. According to an early CBS press release: "As a kid, Danny Clover sold papers and shined shoes along the Great White Way, and later pounded the beat as a policeman. He knows everything along Broadway—from panhandler to operatic prima donna—but he's still sentimental about the street, forever a wonderland of glamour to him." Stage veteran Anthony Ross played Clover in Broadway's early run, which originated at the network's New York Studios for the first four months, with producer Lester Gottlieb and director John Dietz at the helm.
Beginning on July 7, 1949, the program moved to the West Coast—where none other than "Mr. Radio" himself, Elliott Lewis, took over Broadway's My Beat's direction and production chores. It would be the actor's first foray into working on the other side of microphone, which he would continue to do with such series as Suspense, On Stage and Crime Classics. Writers Morton Fine and David Friedkin (Bold Venture) handled most of the scripting for the series. Director-producer Lewis was a native Manhattanite, and brought this expertise to the program…particularly in the area of "sound patterns." Lewis utilized three sound effects men—David Light, Ralph Cummings and Ross Murray—to give him precisely what he wanted: a cacophonous show where "even the people in New York are noisy." Elliott strongly believed that Manhattan was just as much a character as the regulars in the series. "You should hear the city constantly," he told the SFX men. The Big Apple was even referenced in Broadway's memorable theme song, I'll Take Manhattan. The program's vibrant musical score was composed by Alexander Courage, who would later write the opening theme for the television classic Star Trek.
The move of Broadway out west also resulted in a casting change in the main character of Detective Clover; Larry Thor, a CBS staff announcer familiar to both Suspense and Escape audiences, won the role. Two other characters appeared regularly on the show: Sergeant Gino Tartaglia (the show's comic relief, played by Charles Calvert) and Sergeant Muggavan (played by future Oscar nominee Jack Kruschen). Supporting roles were played by a mixture of OTR veterans and movie/TV actors, including favorites such as Hy Averback, Edgar Barrier, Harry Bartell, Herb Butterfield, Mary Jane Croft, Lawrence Dobkin, Herb Ellis, Betty Lou Gerson, Virginia Gregg, Sheldon Leonard, Cathy Lewis, Eve McVeagh, Barney Phillips, Irene Tedrow and Martha Wentworth.
While Broadway Is My Beat covered much of the same territory as the better-known Dragnet—exploring hard-hitting topics foreign to radio drama at that time, like juvenile delinquency and anti-Semitism—it eschewed the crisp, clipped presentation of the Jack Webb program in favor of a more literate approach that sometimes veered toward the flowery. It's important to remember, however, that both programs paved the way for later radio police dramas like The Line Up and Twenty-First Precinct. During its five-year radio run (from February 27, 1949 to August 1, 1954), Broadway was mostly sustained by the network (though it did have brief sponsorships by Lux Soap and Wrigley Gum) and was a utility series in the same manner as radio's Escape. It would often be bounced around (at one time it was heard in fifteen different time slots) to fill a cancellation hole in CBS' schedule or called upon as a summer replacement (for Arthur Godfrey's Talent Scouts in the summer of 1950 and Meet Corliss Archer in 1951). In fact, there was a time when Broadway and two other Elliott Lewis series, Crime Classics and On Stage, could be heard on the same Sunday night in 1954.
Of the 212 broadcasts that comprised the radio run of Broadway Is My Beat, about half of those have survived. Radio Spirits has some of them available in three wonderful CD sets: the recently released Great White Way, and the earlier Murder and Neon Shoals. In addition, the Police and Thieves: Crime Radio Drama set contains several programs from the series, as well as many of the shows that followed in its wake. Enjoy the free stream below, first heard on July 28, 1949.
This slightly revised article was originally published February 2014 on the Radio Spirits Blog. Copyright 2014 Ivan Shreve, Jr. and RSPT LLC. All rights reserved.